MANILA, PHILIPPINES — The creative industry is brimming with tons of amazing ideas, so it's no surprise that there's never a shortage of great campaigns to admire and celebrate.
From gripping stories and new perspectives that embody what a brand stands for to new fun ways people can engage with a brand, here are campaigns that caught adobo Magazine's eye this week:
When an app becomes a community effort's best friend
GCash pulls heartstrings with its recent film about Ate Alma, a photocopy operator who has been a beloved and significant member of the university community for years. Based on true events, it recounts how students rallied behind her to get her and her family back on their feet when her house was destroyed by a flood. With GCash, they were able to set up a fundraising movement that allowed community members to send money directly to Ate Alma's e-wallet. This is a part of the #GCashStories campaign which, through real stories, brings to the spotlight how the app has helped take away financial barriers, enabled support and connection among communities, and elevated the lives of many individuals.
A closer look into empowering the women of gaming
Despite gaming being for everyone, the world of esports remains to be a male-dominated scene, with women gamers often being left out of the spotlight. However, more and more women are proving the notion that gaming is for men wrong, and among them is Jinny, the subject of electriclime and video game developer Riot Games' recent VALORANT Game Changers film. The documentary-style profile on the player delves into her experience in gaming, not just as one top female player in esports who made it all the way to the VALORANT Game Changers Championship Tournament but also as a leader, mentor, and friend to the fellow talented women on her winning team.
Save your drinks from the heat this summer
It's that time of the year again when a big chunk of the world is constantly in need of lighter clothes, shade from the sun, and of course, a nice cold drink. Just in time for the summer, with temperatures reaching the 40s, Budweiser and BETC Paris have found an eco-friendly method of keeping your beers cool. The design of "Bud Ground Cooler," the first sustainable electricity-free fridge that goes below 6°, was based on ancient cooling techniques that could capture freshness via geothermal cooling, giving Bud lovers a greener way to ensure the heat doesn't ruin that perfect ice-cold drink.
A mother's love finds its way to homesick Indonesians
Warm meals made by loved ones may just be the best part of special occasions. So, for this year's Ramadan, Heinz ABC and Leo Burnett Indonesia ensured that even those who were away from their families could have access to the comfort and joy brought by home-cooked meals made with love. The #ABCDapurBersamaIbu movement, a campaign that had 133 community kitchens preparing and distributing 125,000 mom-made meals to various vulnerable groups in society, ran for the entirety of Ramadan and fulfilled the craving for the taste of home for those who need it the most.
A font swap that shines a light on the truths being erased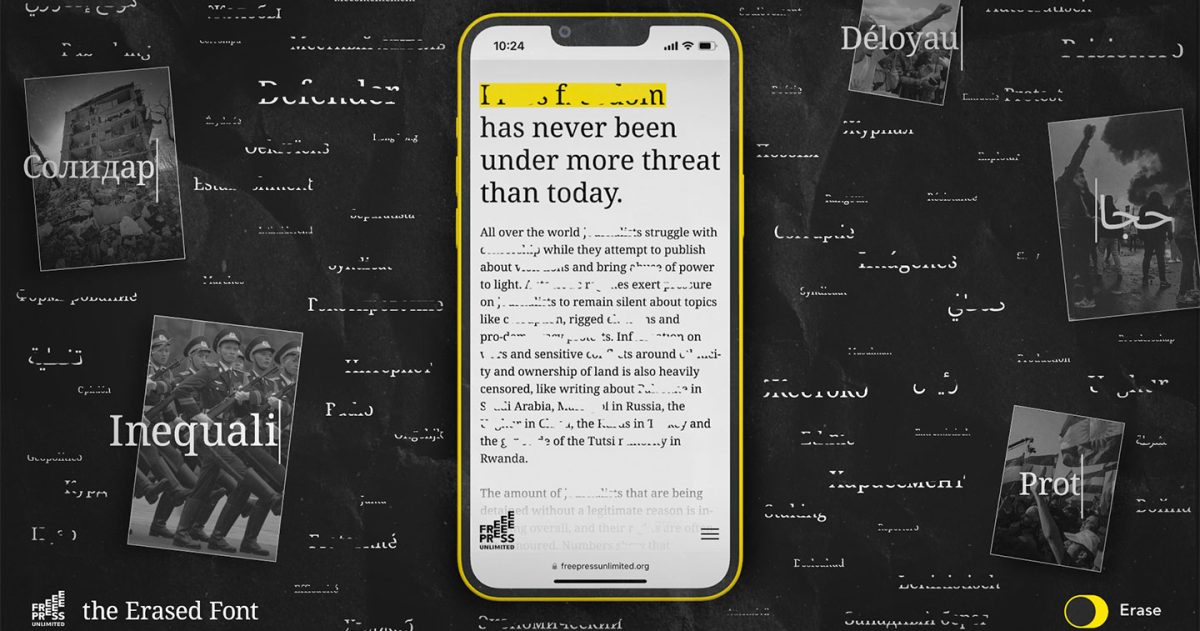 180 Amsterdam and Free Press Unlimited recently launched The Erased Font, a font that makes that automatically censors words. More specifically, it censors one word for every journalist imprisoned. Furthermore, the censored words aren't just chosen arbitrarily, because every one of them is connected to a real journalist who has been imprisoned and the issues they reported on. On World Press Freedom Day, several publications adopted this font in solidarity. This is the campaign's way of making unjust realities being faced by journalists everywhere — from censorship to disappearance and imprisonment — visible even as they're being erased, much like real life.
Here's a look back at adobo magazine's weekly campaign picks.