P&G and Facebook joined Oscar, Emmy and Sundance winners on stage at the Cannes Lions Festival today to present FREE THE WORK, a game-changing initiative that will create a more inclusive future across the film, TV and advertising industries.
Director of this year's Sundance winner Honey Boy Alma Har'el founded the new venture as a way to put the spotlight on under-represented talent. She was joined on stage by Facebook CMO Antonio Lucio, P&G Chief Brand Officer Marc Pritchard, Oscar-winning director Rayka Zehtabchi, and Emmy-award winning actress and producer Natasha Lyonne – who executive produced, directed and starred in Netflix hit Russian Doll.
When 40% of women say they don't relate to how advertising portrays them, and only 7% of commercials are directed by women, Har'el is determined to redress the balance and make the work reflect the real world. Boosting the number of female, trans identifying, non-binary and underrepresented creators is a crucial step on this journey.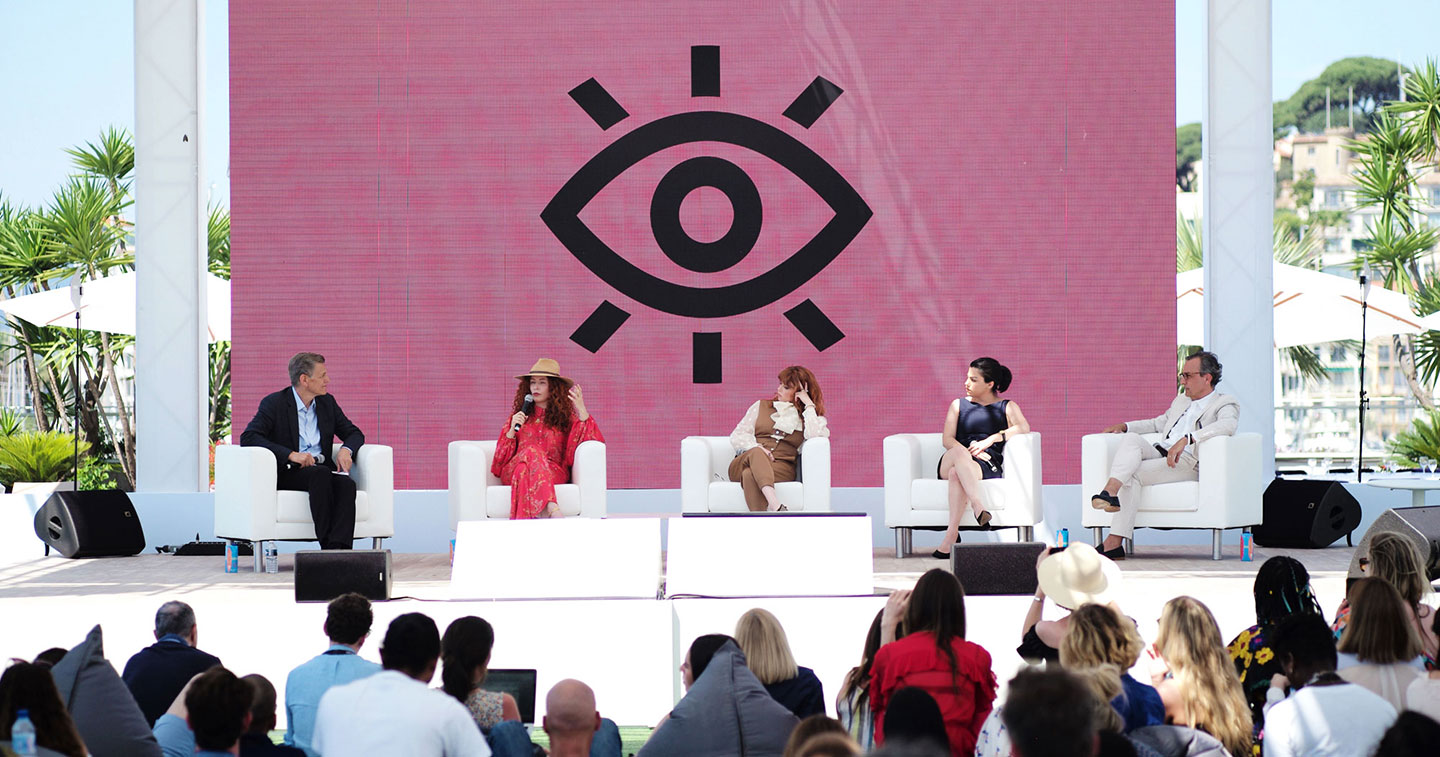 The launch of FREE THE WORK was accompanied by a hard-hitting film from Wieden+Kennedy Portland, directed by Amber Grace Johnson, which takes the viewer on a 200-year journey, imploring us to embrace often-overlooked creative voices.
FREE THE WORK's follows on from Har'el's success with Free The Bid, a nonprofit initiative in the world of advertising and pushed HP from 0% female directors to 59% female directors on 53 commercial films in just 18 months. Agency 72andSunny went from employing 1% female directors to 35% thanks to Free the Bid.
Four of the world's biggest companies, including P&G, AT&T, Facebook and Amazon Studios have joined Har'el as founding partners of FREE THE WORK and will lead its global expansion over the next three years. Additionally, Verizon has signed on as the inaugural guardian patron. FREE THE WORK launches with the support of its allies: The Sundance Institute, The Unstereotype Alliance, and the ANA's #SeeHer initiative.
FREE THE WORK will allow TV networks, film studios and brands like diversity and inclusion leader AT&T, ranked no.1 on Diversity Inc.'s 2019 list of Top 50 Companies, to track quantifiable results for their diversity efforts across industries with a customized dashboard. Access to the database is free to everyone, with special features like personal accounts, sharing playlists and tracking available via paid membership, similar to Spotify / Spotify Premium and IMDpro / IMDB.
Actors and industry leaders, including Emmy award winners Lena Waithe, Tracee Ellis Ross, Jill Soloway, Oscar nominated actor Lucas Hedges, 2019 Emmy nominee Natasha Lyonne and Oscar nominated DOP Rachel Morrison, appear on the discovery page, providing curated playlists of global talent.
It will also offer educational tools, facilitate mentorship opportunities and act as a collaborative community platform. Members can connect with each other and work together on issues they care about, such as equal pay.
Free The Bid was founded in September 2016 by Har'el.
The initiative has seen measurable change for Free The Bid's brand and agency partners. Some ad agencies have reported a rise of 35-400% in their bidding and hiring of women directors. Under the leadership of Antonio Lucio in his former role at HP Inc., Free The Bid took pledged supporters from 0% women directors hired to helm their commercial campaigns to 59% women directors in a short period of 18 months. Antonio Lucio now joins forces with FREE THE WORK, coming aboard as a founding member in his role as Chief Marketing Officer of Facebook.
"Facebook is proud to support this game-changing talent discovery service, helping to expand into international markets with talent that reflects the multicultural tapestry of today's world," said Lucio.
"P&G is a proud supporter of Free the Bid," said Marc Pritchard, P&G Chief Brand Officer. "Now, we are thrilled to be a founding sponsor of FREE THE WORK – because creativity loves diversity!"

An estimated 160 ad agencies worldwide are now signed up to Free The Bid in 20 countries, along with an estimated 180+ brands. FREE THE WORK intends to bring these unprecedented numbers to the TV, film and music industries.
ABOUT ALMA HAR'EL
Alma Har'el is a film, music video and commercial director, best known for documentaries LoveTrue and Bombay Beach; which received Tribeca Film Festival and Film Independent Spirit Awards.
Har'el has garnered accolades for her commercial campaigns, including "Love Over Bias," for P&G, which earned a 2018 DGA Award nomination.
Har'el founded advocacy non-profit Free The Bid in 2016, which has achieved measurable results toward inclusion in the commercial world. For this, and her directorial work, she was named among Fast Company's "Most Creative People of 2018".
With her first scripted film Honey Boy, written by and starring Shia LaBeouf, Har'el cements her place among the most genre-bending filmmakers today. Honey Boy premiered in dramatic competition at Sundance 2019 and won the Special Jury Award for Vision and Craft. The film was picked up by Amazon Studios and will be released in theaters on November 8th.
ABOUT FREE THE WORK
FREE THE WORK is a holistic talent discovery service for women and underrepresented creators. The platform represents the next generation of Free The Bid, the non-profit initiative advocating on behalf of women directors for equal opportunities to bid on commercial jobs in the global advertising industry.
FREE THE WORK is a global network and interactive database connecting underrepresented creators and those who hire them.  The platform will also provide a comprehensive resource for agents of change in the production industry, curated playlists, intelligent, customized discovery of untapped talent and quantifiable results of diversity efforts through tracking tools.
Founding partners include P&G, AT&T, Facebook and Amazon Studios.