What does true beauty look like? Enigmatic, according to BBDO Guerrero's Associate Creative Director Arnel Villanueva's winning piece for this year's Ad Age Magazine's Young Creatives Cover Competition.
Every year, Ad Age holds a contest for creators below 30 around the world to come up with a unique design embodying a theme they pick for the year.  And Villanueva's win is the third one for creatives in the Philippines.
For the contest's 10th anniversary, the magazine partnered up with Dove, Getty Images, and Girlglaze to come up with a theme that would encourage inclusivity. The group chose to look for an image "that communicates the power of truthful representation in advertising, creativity, or the broader cultural world". The winning image would be used in the magazine's Cannes issue for June.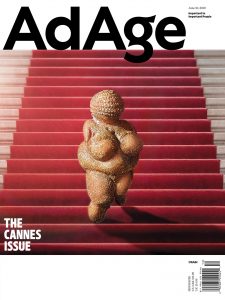 Arnel Villanueva's "The Imperfect Stunner"
Villanueva, who flew solo to create this project, had the brilliant idea occur to him while watching Avengers: Endgame. Working at the very last minute, he sent in an image of Venus from Willendorf — a totem shrouded in mystery whose real purpose has never been determined — walking through what looks like the Palais des Festivals at Cannes.
Read adobo magazine's conversation with Villanueva here:
How did you approach the brief?
Villanueva: The brief was simple, timely and very relevant. It was a real challenge for me on how to creatively and truthfully answer the brief, considering how the award-winning Dove's "Real Beauty" campaign successfully conveyed the same message. I was like "I need to think like that!"
So I started looking for symbolic images that portray women, most of them show the ideal and "perfect" physique. And after reading the brief, the Venus of Willendorf instantly came to my mind.
This goes back to my Arts History subject where I was very fascinated with this mysterious sculpture from way back circa 30,000 BCE.
Describe the cover concept and message you wanted to convey.
Villanueva: My work is entitled "The Imperfect Stunner". The illustrated image is a recreation of the Venus from Willendorf, an iconic figure known as the "nude woman". I believe it best shows the truthful representation in advertising — wherein despite her being imperfect, different, not in ideal shape, has exaggerated and disproportionate physique, she shines and stands out confidently in front of the crowd.
No more perfect Venus, no more idealistic representation of the body. This time calls for authenticity and people have become mature enough to know what to sympathize on.  Nowadays they're latching on to messages that are authentic and speak for themselves.
When people see this image, I'd like them to feel that even if you're the opposite of the ideal to today's society, you stand out.
How does it feel to win this global competition?
Funny story. It was technically David, Fede and Fran, who first found out about this.  Ad Age sent me an email informing me about my win but ignored the email, because I thought it was just another magazine subscription email. Haha.
Then, [my co-workers] started congratulating me, and I finally read the email. I was very shocked and wasn't expecting it.
I don't know what to say. I'm overwhelmed and it hasn't really sunk in yet. It's such a great blessing. This was my last chance to join the competition as i'll be turning 30 later this year, so I'm very grateful for this.
Normally entries are done in teams, you did this alone. Why?
It was a last-minute and overnight entry, I wasn't able to pull anyone in anymore. I remember I was still hyped up, fresh from the cinema, after watching the movie Avengers Endgame while doing this. Haha.